today, we only had to report to school for the mic mock test, which last for only 30mins!?!?!? so -.- right? hahaha but due to someone telling us that we had to go for the pas tutorial, we went to school an hour earlier... so what right??? haha and we didn't know till we were finding the classroom!!! haha
so we chilled in the hs office... talking and studying for the mic test.. haha totally no motivation to work hard can?? anyway.. after the grps presented.. we went took for Dr. Thomas.. haha and he told us we got an A!!! like YAY?!?!?! hahah i think we got it cos of moderation though... but hey!! we were the first grp to present ya know?!?!?!okay.. and the mic test? hmm... could say i did very badly for the test... though i didn't fail...then, after the test... jean and thithi went home... so initially... hamidah, xuan hui and moi were planning to go to bedok to buy our nurse uniform.. but change of plans when we reached clementi!!! haha.. sooo.... we went to NUH cos hamidah needed to hand up some survey thingy! okay... then we headed to bugis by cab... then hunted for xuan hui's bohemian skirt.. but we shopped and shopped and couldn't find any one she liked!!! ITS OKAY XUAN!!! WE'LL FIND ONE EVENTUALLY!!! HAHHAHAHAHA
then we went to HAJI LANE!!! HAHAH had our dinner at BluJaz!!! its a

FREAKIN' NICE PLACE in my opinion

.. hahaha fantastic food, ambience and service!!!
thats my New York CheeseCake!!! :D superb.
haha hamidah ordered OREO CHEESECAKE!!!!! EQUALLY HEAVENLY!!! yes. its HEAVENLY!! haha!! too bad i din manage to get a shot of it!! it looks nicer than the NEW YORK CHEESECAKE though!! HAHAHA
thenn we went to Victoria Jomo!! hahahah and suan bought the

nerdy specs!!!

hahahaha so cute lor!! HAHAHAHA then we went to marina square cos hamidah gotta meet her friend.. then as we were walking from marina square, we heard some national day songs!! then we were like expecting to see some fireworks lah. haha not sure preview have anot mah..hahaha then we waited and waited and it never came!!! BOO!!!
lol!! anyway.. took some pics of xuan with her nerd specs.. haha not much pics today cos the lighting there kinda sucked... okay.. either that or my phone sucks. HAHAA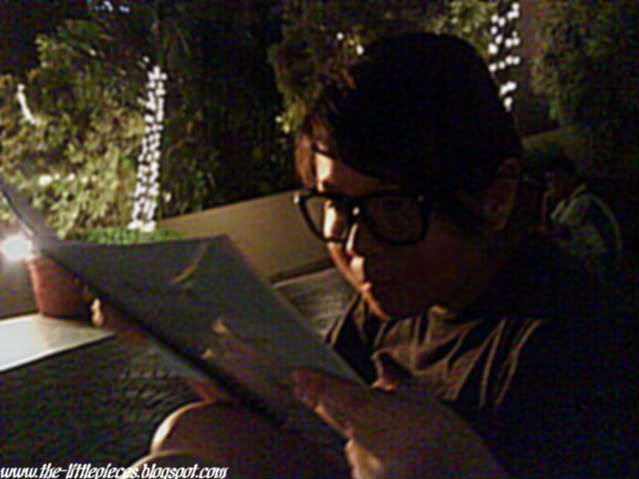 okay.. so we headed for home after that... SIAN!! HAHAH

p/s:

watched some parts

of the Beijing Olympics... well speech parts were boring!! as usual!!! hmmm.. other than that... quite well done!!! the visual and lightings had the wow-factor... oh.. and there were brilliant fireworks too!!!

WOO~~~~~~~~